2022
SHOWS AND EVENTS
SALISBURY MOTORCYCLE AND LIGHT CAR CLUB CENTENARY MOTORCYCLE SHOW
23RD JULY 10-4 SALISBURY RUGBY CLUB
—————————————————————————————————————————
The Army Flying Museum will be holding its flagship fundraising event, Wallop Wheels & Wings 2022, on Saturday 2nd July at the Army Flying Museum and the Army Air Corps airfield in Middle Wallop. The event will showcase 50 classic aircraft, 300 super and classic cars and 100 motorcycles.
——————————————————————————————————————–
Thruxton Historic event 11th-12 June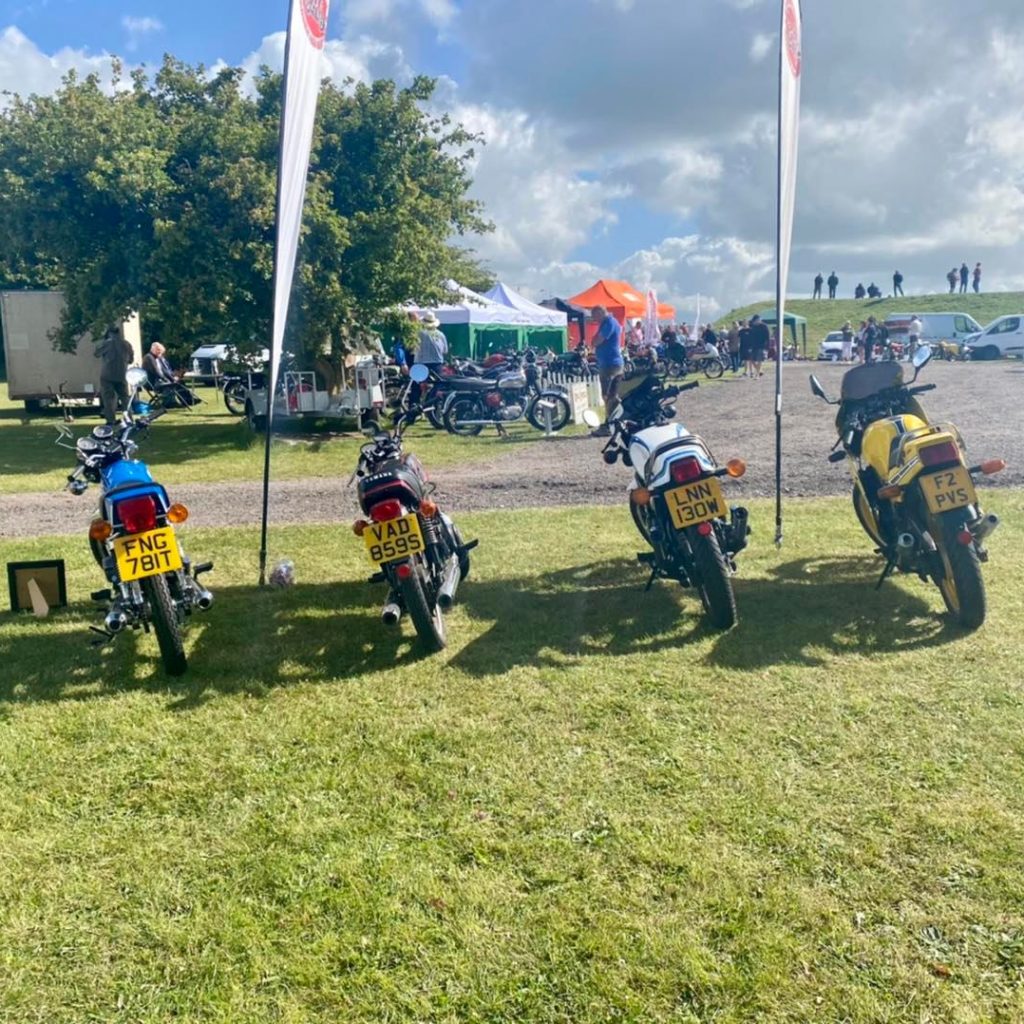 ———————————————————————————————————————-
KINGS SOMBORNE BIKE NIGHT
Starting April 6th, every Wednesday evening SO20 6PW
———————————————————————————————————————–
Bath and West Bristol classic Motorcycle show and auto jumble in February
2021
NEWS
A FAMILY-RUN motorcycle shop in Old Sarum is celebrating its 10th anniversary.
Click Here to see more at salisburyjournal.co.uk
SHOWS
We have booked to attend this years Vintage Nostalgia Festival on 10th, 11th and 12th September at Stockton Park Wiltshire
In March we donated Easter eggs to the Trussell trusts Easter egg appeal
2020
In June we had our shop windows painted as part of the #shopsalisbury campaign

lockdown part 2 and we took part again in the Doorsteps snaps photo event in December donating money towards the Salisbury stars appeal and Julia's house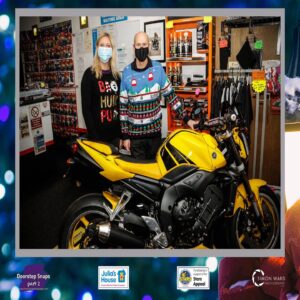 EVENTS
2019 SHOWS
2 Stroke Blue Haze day 9am at Ace Café, NW10 7UD
KFC Bike convey, Wimborne to Old Sarum, 9th June www.kidneyfundraisingconvoy.co.uk
Churchill Arms Bikes 'n' Trikes show 23rd June 10am SP6 3AA
MHA Bike fest Worthies sports club, Winchester 6th July SO23 7NJ
Churchill Arms Classic and custom bike show 21st July 10am SP6 3AA
IOW Scooter rally 24th August
Carole Nash Euro jumble Netley Marsh SO40 7GY 6th-7th September
BIKE NIGHTS
1st Monday of each month starting Monday 6th May, The Parish lantern bike night, SP5 2SA
Every Tuesday night at The Churchill arms, Fordingbridge, SP6 3AA
Every Wednesday night at The Crown inn, King's Somborne, SO20 6PW
——————————————————————————————————————————————————————————
2018 SHOWS
Shows we attended
Kickstart Summer Motorcycle meet 25th March 11am The Malthouse inn, Timsbury
Kickback National championships Stoneleigh park 7/8th April
Vintage Nostalgia show Stockton park 1st -3rd June
Bike life classics day Sammy Miller Museum BH25 5SZ June 24th 9-5PM
Isle of Wight scooter rally 25th August
Carole Nash Euro jumble Netley Marsh SO40 7GY Friday 31st August and Saturday 1st September
Oily rag festival of bikes, Cheltenham town hall 8th and 9th September
BIKE NIGHTS
The Churchill Arms Bike night, every Tuesday night, Alderholt, Fordingbridge SP6 3AA
The Crown inn Bike night, every Wednesday night, Kings Somborne, SO20 6PW
The Haven Bike night, first Thursday of each month 6-9pm April- September 2018 A30 London road, SP5 1ST
KICKSTART SUMMER SHOW NOSTALGIA SHOW
---
2017 SHOWS
Shows we attended

. Kickback National Championships April 1st and 2nd Stoneleigh Park, we took our Triumph to display
. Five Valleys bike run 23rd April
. Salisbury MAG Show 3oth April from 12noon Salisbury Guildhall square
. Vintage Nostalgia Show 2nd, 3rd and 4th June Stockton Park
. Durrington village show and Vintage vehicle event 16th July Durrington Rec SP4 8HH
.Carole Nash Euro Jumble, Netley Marsh SO40 7GY 1st and 2nd September
.Cheltenham Festival of Bikes, Cheltenham Race course, 24th September
BIKE NIGHTS AND EVENTS

. The Haven Bike night, first Thursday of each month 6.30 till 9pm, A30 London road, SP5 1ST April to September

. Dog & Gun Bike night, every Thursday 6 till late, Netheravon SP4 9RQ
. Churchill Arms Bike night, every Tuesday from March, Fordingbridge SP6 3AA
.TRIUMPH COMPETITION

We entered our Triumph Street triple 675 custom build into Triumph UK's Facebook competition, it got through to the top 10 and then through to public votes where it came 4th place just missing out on winning a place to be on display at the 'Bike Shed' show, however we are still very proud of getting this far and thank all those who took the time to vote, thank you!
---
2016 SHOWS
Shows we attended

Five Valleys motorcycle run – Sunday 10th April www.salisburymotorcycleandlightcarclub.co.uk
Bike life classics day June 26th at Sammy Millers Museum BH25 5SZ

Durrington Show and Vintage Vehicle Meet – 17th July at Durrington Recreation Ground, SP4 8HH

Calne Bike Show – 30th July at Beversbrook Farm SN11 8RX

Vintage Nostalgia show 3rd, 4th 5th June Stockton park BA12 OSQ
Chichester college charity bike show Sunday 19th June
Winterslow summer fair Saturday 11th June
Salisbury MAG show Sunday 17th April
BIKE NIGHTS
The Haven Bike night, every

Thursday

6.30 till 9pm

, A30 London road, SP5 1ST
The White horse, Quidhampton bike night, third Wednesday of each month, 6.30 onward
Vintage Nostalgia Show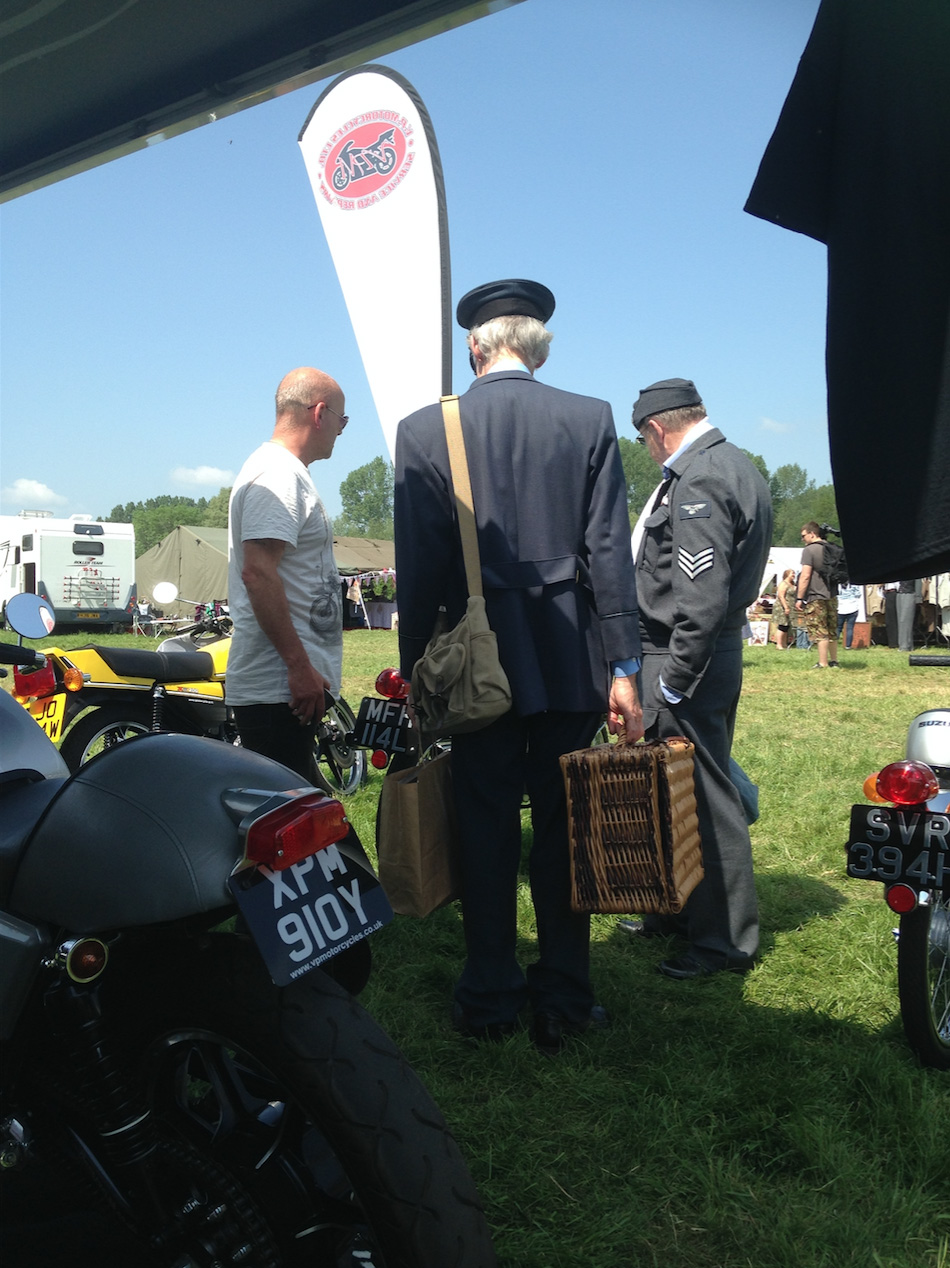 ---
Winterslow summer fair celebrating the Queens 90th Birthday
Salisbury MAG Motorcycle event


This year we were proud to sponsor and fund the marshal's vests, we also had a great selection of bikes on the stand for the 8,000 bikers who attended the event to see!
---
2015 SHOWS
Shows we attended

Salisbury MAG Motorcycle event –

Sunday 19th April

Vintage Nostalgia Show – 29th, 30th and 31st May at Stockton Park, Wiltshire, BA12 OSQ
BLESMA Week –

1st to the 7th June.

We are supporting BLESMA Week, help raise money to ensure our service men and women who live with limb loss can lead independent lives
Bike Life Classics Day – 21st June at Sammy Millars Museum, BH25 5SZ
Ton Up Day – 5th July at Brooklands Museum, Surrey, KT13 OQN
Beaulieu Bike Ride – in 12th July at Beaulieu Museum, Hampshire,SO42 7ZN
Durrington Show and Vintage Vehicle Meet – 19th July at Durrington Recreation Ground, SP4 8HH
Calne Bike Show – 25th July at Beversbrook Farm SN11 8RX
Wallop Vintage Gathering – 30th August at Over Wallop Sports Field, S020 8JL
Salisbury Bike Night – First Thursday of every month (April to October) at:
The Clearway Garage A30, Salisbury SP4 6DT – 6pm till late
---
Netley marsh Euro jumble

---
We took the Kawasaki Z550 Cafe racer and Suzuki GT200 X5 to the Sammy Millers classic day in June, the event was raising money for Salisbury stars appeal.
---
Vintage Nostalgia show
---
We attended the Kickback national custom bike show in March, the Cafe racer and Honda had lots of attention, we even had Henry Cole sit on one of our motorcycles!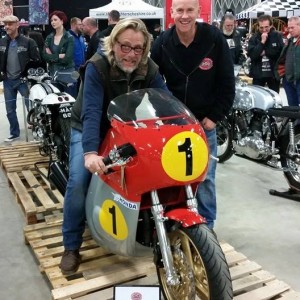 ---
VP Motorcycles were invited to show our latest custom build motorcycle a Honda CB400 Super Four at the MCN show at Excel London in February!
---
2014
June – We welcomed Dominic from St Josephs school to VP Motorcycles for a weeks school work experience.
July- Some of our Motorcycles were used in a photo shoot for Regent tailoring in Salisbury, we were also asked to provide the cafe racer for another shoot at the Larmer tree gardens.
£1 to work day
VP Motorcycles were the first business to sign up to this years Spire Fm 'Bring a pound to work day' This year business are raising money for the Stars Appeal Salisbury Hospital and a new breast cancer care unit. Please help us raise money towards this charity by popping £1 in the collection pot when you visit the shop, thank you.
---
2014 SHOWS
Shows we attended
April 3rd – Clearways Salisbury bike meet
A good turn out for the first meet of the year.
Sunday 13th April – Salisbury MAG 13th Spring Surprise Bike show
Salisbury Market Place.
We took the GT 200, Cafe racer and Yamaha YDS 5 to display
We were also proud to be part of the judging panel for the day.
Monday 21st April – Spring vehicle meet and auto jumble Wyke Down Andover
We took the cafe racer to this Vintage vehicle event on the back of the F1 Lightening truck, it certainly turned a few heads!
Friday 30th, 31st May and 1st June – The Vintage Nostalgia Show, Stockton park, Wiltshire
Sunday 8th June – Southern alternative motor show – Silverlake stadium, Eastleigh football club 10 – 4pm
First time for us attending this show and glad we went, very well organised, great attendance and lots of interest in our bikes and the service we offer
Thursday 3rd July – Salisbury bike night
A very busy evening, great to see lots of our customers there enjoying the sun and chatting 'bike'!
Sunday 20th July – Durrington village show and vehicle gathering
Rico and Dave attended this show displaying the Kawasaki and Suzuki in the vehicle line up and riding them around the arena.
Saturday 16th & Sunday 17th August – Popham bike mega meet, Popham airfield.
Sunday 24th August – Wallop Vintage Gathering Over Wallop sports field

Friday 5th & Saturday 6th September – Netley Marsh auto jumble
TESCO FUEL SAVE PROMOTION
We were asked in March to display 2 of our show bikes in the Tesco Southampton road store as part of their new club card fuel save scheme, it was great to be asked to advertise in such a large well known venue.
---
2013
We were proud to welcome our first apprentice Rico Sgueglia.
www.salisburyjournal.co.uk
£1 TO WORK DAY We supported the Stars appeal to raise money for the Salisbury hospital CT scanner by joining Spire FMS' bring a £1 to work scheme, as we have only a small work force we thought our lovely customers could assist us by donating £1 to the pot when visiting the shop and you did, so thank you all very much, we now have a certificate to prove it to!
---
BUSINESS OF THE YEAR AWARDS
We entered the South Wilts business of the year awards again in two categories this year and attended the awards ceremony in June, it was a great experience and well done to all those who entered the event.
OPEN DAY
To celebrate VP Motorcycles second birthday we had an open day on Saturday 6th July from 1 till 4pm
Close to 100 bikers came along for a cuppa and a piece of cake! Thanks to all who came out and supported us.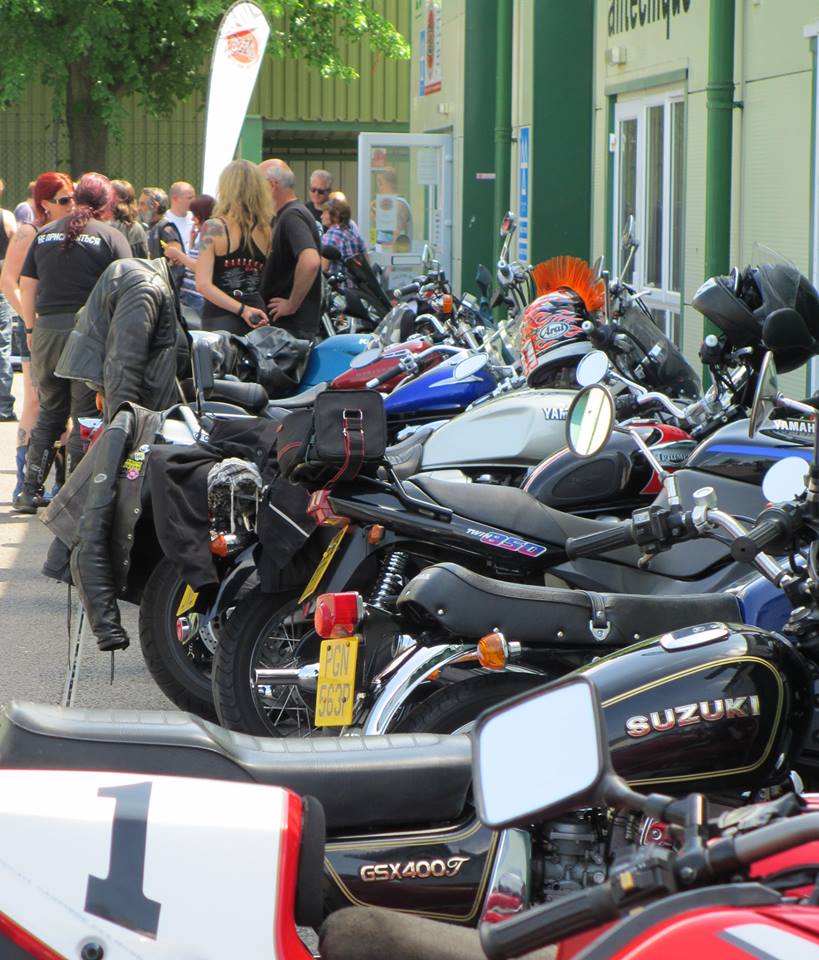 SHOWS
Salisbury Mag Motorcycle show on Sunday 7th April at Salisbury livestock market
The Cafe racer was on display on the Mag stand, on the VP Motorcycles stand was a black customized R1, my customized K5 and a fully restored Z1000 1978. A huge variety of motorcycles attended a great event.
The Durrington show and vehicle gathering on Sunday 21st July was a very hot and sunny day with a great turn out, lots of interest in the cafe racer on show and good to see so many vehicles on display.
Popham Mega meet bike jumble on Sunday 18th August at Popham airfield Nr Winchester
Our first time holding a stand at this very busy show, plenty of business cards were handed out and lots of interest in our stand, the Mondial in particular drew alot of interest.
Netley Marsh Auto jumble in Southampton on Friday 6th and Saturday 7th of September was a well turned out event and we managed to dodge any showers, this show is a good opportunity for us to have a clear out in the shop of spares and of course have a rummage around other stalls to find any parts to finish some of our projects!
---
2012
2012 was an exciting year for VP Motorcycles with lots of shows, events and new customers.
Congratulations to Trevor Hansford, your Buell was the winner of our VP Motorcycles 2012 photo competition!
On May 18th 2012 we tested and passed our first motorcycle at the on site MOT bay.
We welcomed Lewis for 10 days as part of his school work experience, we are pleased to say he has now gone on to do a motorcycle course.
SHOWS
14th annual Motorcycle show held by the Salisbury MAG group at Salisbury livestock market
Durrington show on Sunday 15th July
Wilton House supercar show, we had on display the K5 and the R1 both built by VP Motorcycles.
We had a hugely successful 2 days on our stall at the Carol Nash Euro jumble in September, the weather treated us well also.
AWARDS
VP Motorcycles was nominated in 3 categories for the South Wilts business of the year awards, sadly this year we did not win an award even so it was a great evening and we were proud to be part of such an huge event, thank you to all our customers and staff for your support in our first year and we look forward to another fantastic year at VP Motorcycles!
In November we entered VP Motorcycles into the Journal newspapers Business Accelerators scheme, we were excited to have been shortlisted in the local area selection.
---
2011
In August, VP Motorcycles were very proud to be offered a stand at the Salisbury Motor show held at Wilton House , it was a fantastic opportunity to meet a lot of people and potential customers as well as a great day out.
We had four bikes on display showing the range of motorcycles we have for sale which were a classic Kawasaki KH250 Triple 1978, Fireblade 900 2002, Fireblade Streetfighter show winning machine and a Yamaha midnight star 1300cc trike all of which drew in the crowds.
We enjoyed having a stand so much that we attended the Netley Marsh auto jumble later in the year.