Tyre Changing

VP Motorcycles Tyre Changing and Maintenance Services
We are happy to offer a tyre fitting and balancing service for most makes of Motorcycles.
We supply and fit most makes, these include:
Michelin

Goodyear

Pirelli

 

Dunlop

Bridgestone

Avon and Metzeler
In order to make the process of ordering new tyres easier, make sure to take note of the width, profile and wheel size, for example: 120/70-14 M/C 55s.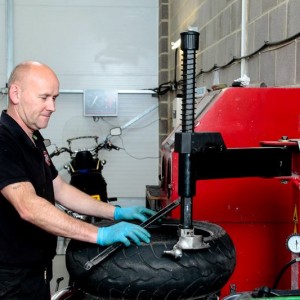 One of the best ways to help reduce things such as tyre wear, fuel consumption and to assist in better handling is to check your tyre pressures regularly. You can usually find the recommended pressure details in the owners manual of your motorcycle. Prolonged under-inflation can result in flexing, deterioration and rapid wear of the tread edges. Prolonged over-inflation can result in reduced area contact with the road, quicker wear on the tread center and an uncomfortable ride. The best conditions to test your tyres pressure is when they are cold. The tyres are best considered 'cold' when they haven't been ridden on for three hours.
Regular tyre inspection and maintenance is highly recommended. Things to look for whilst inspecting can be things such as obvious visual conditions such as cracking to the treat and/or sidewall rubber, foreign objects, cuts and bulges. In order to keep your tread inline with UK law, motorcycles over 50cc require 1mm across 3/4 of the width of the tread pattern with remaining visible tread across the other 1/4. For motorcycles up to 50cc, all grooves of the original tread pattern should be clearly visible.
After having new tyres fitted, it is recommended that the motorcycle should be ridden with caution – avoiding things such as harsh acceleration, breaking, and hard cornering. Extra care should also be taken whilst riding on wet surfaces.
You can find out more information about keeping your tyres well maintained by clicking here.
Call for a price for tyre fitting either a loose wheel or on the bike.